---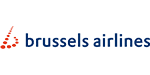 Brussels Airlines
Brussels Airlines is the Belgian airline group that offers the widest choice of flights to and from its base at Brussels Airport. A fleet of 43 aircraft and about 3500 employees from the Brussels Airlines group are assuring some 300 punctual flights daily, connecting the capital of Europe to more than 60 premium European and African and US airports.
On its European routes, operated mainly with Airbus A319/A320 and AVRO, Brussels Airlines offers the choice of 4 different travel classes: Bizz&Class, Flex&Fast, Light&Relax and Check&Go. On medium- and long-haul flights, the airline operates traditional business or economy class. Long-haul flights are operated with Airbus A330-300 aircraft.
In addition to 19 destinations on the African continent and a direct transatlantic service to New York, Brussels Airlines and its intercontinental partners also offer long-haul service to the Middle East, China, Thailand, India and Canada.
Brussels Airlines is owned by SN Airholding and is backed up by more than 80 years of aviation experience in Belgium. In June 2009, Lufthansa acquired 45% of the company's shares. Since 9 December 2009, Brussels Airlines is a member of Star Alliance, the world largest airline alliance.
visit the Brussels Airlines website
---
Missions
Sierra Leone Mudslides
Three days of heavy rains in Sierra Leone triggered flash floods and landslides in and around the capital of Freetown on 14 August. The disaster resulted in more than 1,000 fatalities and the displacement of 10,000 people. 
With the help of discounted air transport from Brussels Airlines, Airlink supported the response of Rise Against Hunger and Waves for Water, who provided food aid and access…
Visit the Sierra Leone Mudslides page
Airlink AirBridge for Ebola Response
The Ebola outbreak affecting Liberia, Guinea, Sierra Leone, and Nigeria was largest in history and the first in West Africa. During the main outbreak (Spring 2014 to Fall 2015), the virus spread to 28,465 people and took the lives of over 11,000. Sierra Leone and Liberia were especially hard hit, with high concentrations in urban areas.
The scarcity of medical supplies proved to be a major ba…
Visit the Airlink AirBridge for Ebola Response page
Medical Relief for Ebola Crisis
The Ebola outbreak affecting Liberia, Sierra Leone, Guinea, and Nigeria is largest in history and the first in West Africa. The virus has spread to more than 3000 people and has taken the lives of over 1500 people. Sierra Leone (1026 confirmed cases, 422 fatalities) and Liberia (1378 confirmed cases, 694 fatalities) are the countries most affected by this epidemic, with high concentrations in urb…
Visit the Medical Relief for Ebola Crisis page
Disability Advocacy
According to the Kenya National Survey for Persons with Disabilities (KNSPD), an estimated 70,000 people suffer from a physical disability in the country.  There is a great need to raise awareness on disability issues in Kenya.  The United Kingdom's National Health Service donated 27 wheelchairs to the Olympia-Wafula Foundation for distribution throughout underserved parts of Kenya in order to he…
Visit the Disability Advocacy page