---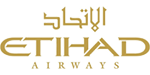 Etihad Airways
Etihad Airways, the national airline of the United Arab Emirates, has in just ten years established itself as the world's leading airline. "Etihad" is the Arabic word for "union".

Set up by Royal (Amiri) Decree in July 2003, Etihad commenced commercial operations in November, 2003, and has gone on to become the fastest growing airline in the history of commercial aviation.
visit the Etihad Airways website
---
Missions
Rural Earthquake Recovery
Thanks to the support of 
, 
 embarked on Phase 1 of their earthquake recovery mission in Gorkha Province, Nepal at the end of January. 
…
Visit the Rural Earthquake Recovery page
Severe Earthquake Response
On April 25, a magnitude 7.8 earthquake struck central Nepal, followed by a second 7.3 magnitude earthquake on May 12, with aftershocks in the range of magnitudes 5.6 to 6.3 in the hours following the second quake. Airlink is currently helping its NGO and airline partners respond.
As of May 12, the death toll has climbed to more than 9,000 people, and more than 23,000 were injured. The UN es…
Visit the Severe Earthquake Response page
Tech & Medical Relief
Typhoon Haiyan, one of the strongest tropical cyclones ever recorded, devastated the Philippines on November 8, 2013. It is the deadliest Philippine typhoon on record, killing at least 6,268 people and affecting more than 11 million. The cyclone caused catastrophic destruction in the Visayas, particularly on Samar and Leyte. Many areas were left without the capacity to communicate, severely hinde…
Visit the Tech & Medical Relief page
Rebuilding Communities
The Philippines suffered two consecutive catastrophes that devastated the country at the end 2013. A 7.2 earthquake struck the island of Bohol in mid- October, making it the deadliest earthquake in the Philippines in over two decades. Then, less than a month later, Super Typhoon Haiyan made landfall on the neighboring island of Leyte on November 8th and was one of the most dangerous typhoons on r…
Visit the Rebuilding Communities page
Rapid Response and Relief
On November 8th 2013, Typhoon Haiyan tore through the Philippines affecting over 9 million individuals and displacing over 600,000, destroying telecommunications infrastructure, medical facilities, and many critical services. The city of Tacloban in Leyte, Philippines served as a central coordination point for the relief mission but detailed assessment of damage was not available initially due …
Visit the Rapid Response and Relief page
Disaster Assessment and Support
On November 8, 2013, Typhoon Haiyan tore through the Philippines displacing millions of individuals, destroying telecommunications and power infrastructure, fishing and farming industries, and many critical health related services. The hospital in Guiuan that provides medical services to over 50,000 patients each year was destroyed. Roads were impassable and there were no relief teams in the Eas…
Visit the Disaster Assessment and Support page
Fostering Education
Bright Hope partners with Mathare Community Outreach (MCO), which operates in Mathare Valley.  MCO focuses on two slums in this region; the first is one of the oldest, biggest, and worst slums in Nairobi, and second is a large slum in Kariobangi. These areas are characterized by abject poverty, rampant crime, lack of functional utilities, and a large number of single headed households. Social ame…
Visit the Fostering Education page
FGM Abandonment
Female Genital Mutilation (FGM) is illegal in Kenya, though it is still widely practiced. Once a year a larger ceremony is planned by local leaders and girls (normally between the ages of 8 – 14) are subjected to the 'cut.' Feed the Minds worked with their local community partner (who) to provide Girls Empowerment Camps, which provide a safe and secure home for the girls and women during the FGM …
Visit the FGM Abandonment page