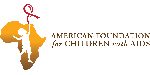 American Foundation for Children with AIDS
AFCA is a non-profit organization that helps HIV+ children, their HIV+ guardians, and HIV+ pregnant women in sub-Saharan Africa who have no other access to aid. AFCA provides critical AIDS and related medications, medical equipment and supplies, nutritional supplements, livestock and seeds, training, school supplies and fees, and emergency supplies that are requested by the institutions in our targeted areas.
Currently, AFCA is working in Kenya, Uganda, Zimbabwe and the Democratic Republic of Congo.
visit the American Foundation for Children with AIDS website
---
Missions
Fighting Malnutrition
In many countries throughout Africa, malnutrition is a major problem; in addition to effects on health, it can cause children to miss school due to lack of strength and inability to concentrate, putting them at a severe disadvantage. For children with HIV/AIDS, malnutrition can be a death sentence, leaving them open to opportunistic infections, in addition to effects on livelihood and education.
…
Visit the Fighting Malnutrition page
---