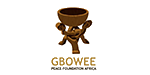 Gbowee Peace Foundation Africa
Gbowee Peace Foundation Africa (GPFA) is a nongovernmental organization based in Monrovia, Liberia. Founded in 2012 by 2011 Nobel Peace Laureate Leymah Gbowee, GPFA works to provide educational and leadership development opportunities for Liberians.
visit the Gbowee Peace Foundation Africa website
---
Missions
Airlink AirBridge for Ebola Response
The Ebola outbreak affecting Liberia, Guinea, Sierra Leone, and Nigeria was largest in history and the first in West Africa. During the main outbreak (Spring 2014 to Fall 2015), the virus spread to 28,465 people and took the lives of over 11,000. Sierra Leone and Liberia were especially hard hit, with high concentrations in urban areas.
The scarcity of medical supplies proved to be a major ba…
Visit the Airlink AirBridge for Ebola Response page
---