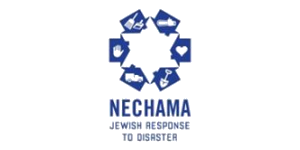 Nechama
NECHAMA is a voluntary organization that provides natural disaster preparedness, response, and recovery services nationwide. Through the years we have brought comfort to disaster survivors by training and mobilizing thousands of volunteers to help communities after floods, tornadoes, and other natural disasters.
visit the Nechama website
---
Missions
Hurricane Harvey
Hurricane Harvey, the largest storm to make landfall in Texas since 1961, has left widespread damage across 50 of the state's counties. Houston and the surrounding areas received a record 51 inches of rain causing catastrophic flooding. Water rescues are ongoing as an estimated 300,000 people are in need of temporary shelter. Millions of people along the Gulf Coast have been impacted. 
Focus …
Visit the Hurricane Harvey page
---
Louisiana Flooding
On August 12, 2016, a powerful, slow moving storm hit Louisiana and parts of the Gulf Coast, causing devastating flooding. Some areas saw more than 30 inches of rain, and entire communities - some of which had never seen a flood before - were inundated. The flooding killed 13 people and left over 144,000 people in need of individual assistance. FEMA has approved over $640,000,000 in aid to regis…
Visit the Louisiana Flooding page
---
Flooding Recovery
On June 23-25, the state of West Virginia experienced massive flooding due to torrential rains, in the worst flooding event the state has seen in 30 years. On June 26, the President signed a federal disaster declaration, escalating the locally-declared state of emergency in 44 counties of WV.  The flooding claimed the lives of more than 25 people. Thousands of homes were severely damaged or de…
Visit the Flooding Recovery page
---
Community Clean-up & Rebuild
On May 24, 2015, Southern and Central Texas experienced numerous large thunderstorms, which increased precipitation over an already saturated area, causing widespread flooding and infrastructural damage. At one point, 11" of rain fell in a 24hr period, leading to massive flash flooding. In Hays County, Texas, the Blanco and San Marcos Rivers were quickly overwhelmed and flooded populated areas. T…
Visit the Community Clean-up & Rebuild page
---
Rebuilding Housing
In May of 2013, NECHAMA – Jewish Response to Disaster responded to the devastating tornadoes that hit Central Oklahoma. Thanks to two donated flights from American Airlines, NECHAMA's essential staff was able to get on the ground quickly to begin assessing damage and coordinating volunteers.
Within days, they were at work bringing comfort to survivors during a difficult time and helping homeown…
Visit the Rebuilding Housing page
---