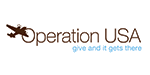 Operation USA
Operation USA is an international relief agency that helps communities at home and abroad overcome the effects of disasters, disease and endemic poverty by providing privately-funded relief, reconstruction and development aid.
Working with grass-roots partners on the ground, Operation USA provides material and financial assistance necessary in the face of a disaster, as well as to combat the effects of systemic poverty. Dedicated to rebuilding with commitment and listening to communities' voices to determine the best way to assist them, Operation USA stays in the field long after many others leave. Long-term projects are supported that promote education and health services, sustainable development, leadership building, income generating activities and advocacy on behalf of vulnerable people worldwide.
visit the Operation USA website
---
Missions
Airlink AirBridge for Ebola Response
The Ebola outbreak affecting Liberia, Guinea, Sierra Leone, and Nigeria was largest in history and the first in West Africa. During the main outbreak (Spring 2014 to Fall 2015), the virus spread to 28,465 people and took the lives of over 11,000. Sierra Leone and Liberia were especially hard hit, with high concentrations in urban areas.
The scarcity of medical supplies proved to be a major ba…
Visit the Airlink AirBridge for Ebola Response page
---